I was recently invited to check out H-E-B's Primo Picks Premiere at a newly enhanced store!
After I parked, I noticed there were TWO crossing guards directing traffic in front of the entrances.  It seemed a little unnecessary on a Wednesday evening, but I could see how it would be useful during weekend shopping hours.  I walked up the red carpet and was greeted by 2 friendly H-E-B employees.  I registered for a drawing (I don't think I won, as I didn't receive a phone call!) and then I was instructed to visit each station, sample the product and get my paper stamped.
To name a few, I sampled Gourmet White Cake with French Buttercream Frosting, Candy Cane Ice Cream, Prime Roast and Chef Prepared Chicken & Green Sauce Tamales.  Each bite was incredible!  Every table was easily spotted by the HUGE metallic star balloons they had hovering over the station.  I headed back to the front to turn in my stamped paper.  I was given an H-E-B reusable bag stuffed to the brim with a selection of the December Primo Picks!  It was so heavy that I was asked if I wanted a basket to push it out to my car! hehe!  I couldn't help but laugh, I took it (almost dropped it), thanked all the employees and headed home.  It was a really great experience!
Check out the H-E-B December Primo Picks!
Connect with H-E-B on Facebook and Twitter!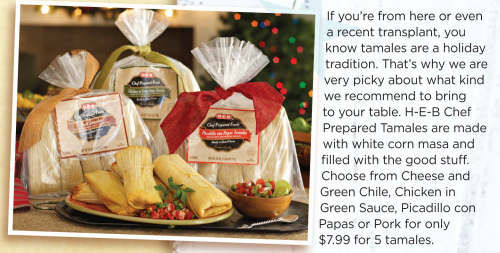 I can't wait to see what Primo Picks H-E-B finds for January!  
**Full Disclosure:  I was asked to check out the H-E-B Primo Picks & newly enhanced store where I was given a gigantic bag of goodies.  No other compensation was exchanged.  All thoughts and opinions are my own.