I have been a fan of Mabel's Labels for quite some time now.  With school resuming in the next few weeks, you can bet that Mabel's Labels were on my back to school list!!  I'd already been to the store for most of our back to school shopping, so when our Mabel's Lables arrived, I couldn't wait to tear them out of the package and start sticking!
The Ultimate Back-To-School Combo Pack is perfect for labeling all of the newly purchased items!
About the Ultimate Back-To-School Combo: 
Comes with 40 Skinny-Minis™, 50 Tag Mates™, 16 Shoe Labels and 2 Teeny Tags™.
Skinny-Minis™: 38mm x 8mm (1-1/2″ x 5/16″), Tag Mates™ 21mm x 10mm (13/16″ x 3/8″), Shoe Labels: 33mm (1.3″) and Teeny Tags™: 30mm x 20mm (1-1/4″ x 3/4″)
Skinny-Minis™ are dishwasher and microwave safe.
Tag Mates™ are washer and dryer safe.
Shoe Labels and Teeny Tags™ are waterproof and UV resistant.
Satisfaction guaranteed.
Choose from 4 limited edition Solid color palettes or 40+ Colorful designs, plus 3 exclusive Ultimate Back-to-School Combo motifs.
Available until September 28, 2012
My Thoughts:
Mabel's Labels are such a quality product.
I love that you can customize the label with your child(ren)'s name, a color and image.
The name on the label is printed exactly as you type it – so make sure you triple check it!! 😉
I don't think my boys really need 16 shoe labels (EACH), but I am sure we can find a good use for the extras!
James and Colin are thrilled with their new labels!  They love that the can customize their belongings with a label!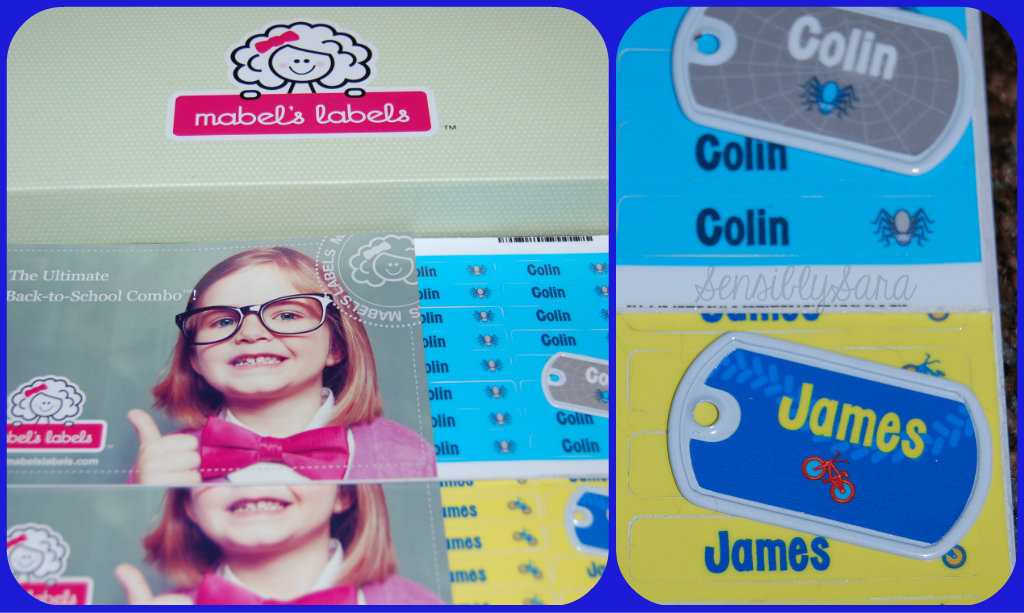 You can connect with Mabel's Labels on facebook and twitter!
Have you used Mabel's Labels before?  What do you think?
**Full Disclosure:  I was provided with product to facilitate my review.  No other compensation was exchanged.  All thoughts and opinions are my own.