I got a box of UNREAL candy to review – and I was ecstatic!  When the box arrived, it was well over 100 degrees outside, so my candy was melted.  That didn't slow us down, though!  It was quickly thrown in the fridge, and while it may have a funny shape, it is still chocolate!
What we thought:
UNREAL54 (Chocolate Shell Candy with Peanuts):  I don't care for peanuts (unless they are boiled, and that would be gross in chocolate), so James and Hubs ate these.
UNREAL41 (Chocolate Shell Candy – No Nuts):  James' favorite!

UNREAL5 (Chocolate Caramel Nougat Bars):  My favorite!  I love nougat, caramel and chocolate.  When you combine them into one bar, you've made your way into my heart!

UNREAL8 (Chocolate Caramel Peanut Nougat Bars):  Hubs' favorite!  (Ok, he has 2.  He couldn't pick JUST ONE.)
UNREAL77 (Chocolate Peanut Butter Cups):  Hubs' 2nd favorite!
You can definitely taste a different in the chocolate – the UNREAL has a better flavor and texture.  Also, I could not eat a whole package in one sitting.
UNREAL, in my opinion, is more filling than other brands of chocolate candies.
UNREAL won't cost much more than other brands of chocolate.
While UNREAL is still candy (junk), it has less sugar and less calories than the other stuff.
**Colin can't eat any of these because they have soy in them.  His opinion is not included in this review.
About UNREAL Candy:  
What makes UNREAL™ products unique?
Our candies contain no artificial flavors, preservatives or hormones; no GMO's (genetically modified organisms); no hydrogenated oils; and no corn syrup. Instead, we use real sugar, natural oils, and real milk. Also, you don't need to travel to a fancy health food store or pay a premium to buy our candy, it's only available where junk food is available.
Is UNREAL™ a "healthy" candy?
We don't consider candy to be "healthy" for you. It's a delicious treat that we love. What we've done is give people a better choice, so that when they go looking for candy, they have the option to avoid the junk.
Have you tried UNREAL Candy?  What do you think of it?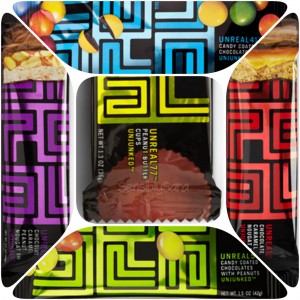 **Full disclosure:  I received a box of UNREAL candy for review purposes.  No other compensation was received.  All thoughts and opinions are my own – or my family's.